What is Impact-Linked Finance Readiness?
What is Impact-Linked Finance Readiness?
March 1, 2023
Discover what it means to be ready for Impact-Linked Finance
Do you know what Impact-Linked Finance can do for you as an entrepreneur or as a service provider to entrepreneurs? Do you want to improve your own or your entrepreneur cohort's impact measurement capabilities and increase the chances for receiving this innovative type of finance? In this blogpost, we will fill in you in on the most important things to know.
What is Impact-Linked Finance?
Impact-Linked Finance is all about unleashing the full potential of (impact) enterprises by providing them with "better terms for better impact". It's not only about moving money – it's about making a real difference and supporting lasting, additional impact.
In the definition by pioneer Roots of Impact, "Impact-Linked Finance refers to linking financial rewards for market-based organizations to the achievements of positive social outcomes."  It is an effective way of aligning an enterprise's positive impact with its economic viability and lies at the intersection between blended finance, impact investing, and results-based finance.
For a quick introduction to the philosophy, you can watch A GREAT VIDEO that was prepared by our sister brand, the Impact-Linked Finance Fund.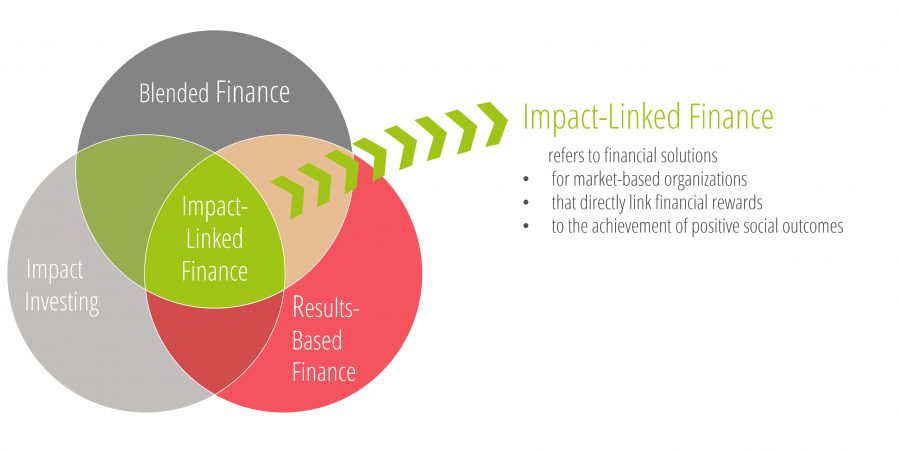 How to get ready for Impact-Linked Finance
Impact-Linked Finance features an entire toolbox of innovative financing instruments, from Social Impact Incentives to Impact-Linked Loans or Impact-Linked Revenue Sharing Agreements. If you would like to know the details of what they can do for an entrepreneur, please check out this cool INNOVATIVE FINANCE TOOLKIT that we helped prepare. You can also play with a brand new and free IMPACT-LINKED FINANCE CALCULATOR that Roots of Impact designed together with Héctor Reyes from INDIE and kind support from the Swiss Agency for Development & Cooperation.
One message is very important: Since entrepreneurs receive benefits for verified impact,  the capacity to do a meaningful IMPACT MEASUREMENT AND MANAGEMENT (IMM) is at the heart of these solutions. Therefore, working on a compelling Theory of Change and setting up a system to define, collect and analyze relevant impact metrics is a precondition for enterprises to be able to attract Impact-Linked Finance.
Now, what does it exactly mean to be ready for Impact-Linked Finance as an enterprise? The first-of-its-kind IMPACT-LINKED FINANCE READINESS BOOTCAMP was prepared by us for the B-Briddhi program in Bangladesh. Here is a short video summary from our Academy Lead Maxime Cheng who describes this brand-new type of bootcamp (please note that the application for B-Briddhi is closed by now):
What this means for you
Impact-Linked Finance is able to provide "better terms for better impact" to an enterprise. Put differently: either an enterprise benefits from cheaper financing costs or it receives additional payments for impact (depending on the exact Impact-Linked Finance instrument chosen). For accelerators, service providers or programs targeting and working with entrepreneurs, this can make a huge difference and open up more and better financing opportunities, particularly for high-impact enterprises.
Inspired? Check out this RECENT EXAMPLE of our Impact-Linked Finance readiness and IMM expertise that we provide as technical assistance for a program by Aqua for All called "Impact-Linked Fund for Water, Sanitation and Hygiene" targeted at WASH entrepreneurs.