Investment Readiness Roadmap (demo)
Test and improve your capacity to attract and use investment to scale your impact
The Investment Readiness Roadmap
Welcome to the Investment Readiness Roadmap! It is a systematic toolkit to support impact entrepreneurs on their journeys towards investment readiness and to strengthen their ability to raise capital from investors. The IR Roadmap is introduced in the context of the "B-Briddhi – Scaling Impact Enterprises of Bangladesh" program:
It is designed as a practice-driven framework and consists of a series of targeted questions in 5 key categories. These questions will allow you to reflect on where you currently are within your investment readiness journey. Based on your answers, you will see a spiderweb graph highlighting your strengths, gaps and areas for improvement. Don't assume you'll need a perfect score in all categories to be able to attract investors. Rather consider it as a continuous opportunity for learning.

This is a demo version of the full Investment Readiness Roadmap version. The full Roadmap will include many tailored and curated recommendations and resources on how to improve and fill your individual gaps based on your individual needs identified here. It will become available around August 2020.

Would you like to learn more? Read our short user guide or get started by testing your Investment Readiness right now with our check below!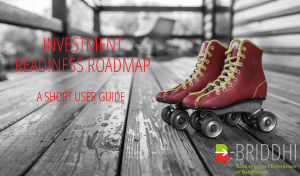 ---